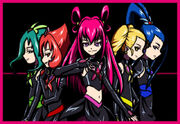 Pretty Cure 5☆Reborn Vocal Album 1 ~Never Give Up!
(プリキュア5 ☆リボーンボーカルアルバム1 〜あきらめない!
Purikyua 5☆Ribōn Bōkaru Arubamu 1 ~Akiramenai!
) is the first
Pretty Cure 5☆Reborn
 vocal album. It is set to come out on July 19, 2016.
The album contains the first opening and ending themes of the show, and the character songs of the Cures featured in the show as well.
Track List
Track #
Title
Time
Singer(s)
Video
01
Wonder! Pretty Cure 5☆Reborn
ワンダー!プリキュア5☆リボーン
Wandā! Purikyua 5☆Ribōn
3:54
Kudou Mayu

TBA

02
Spread Your Wings
あなたの翼を広げ
Anata no tsubasa o hiroge
4:20
Ikeda Aya
TBA
03
Crystals
Crystals
Crystals
4:21
Nishimura Chinami
TBA
04
Bonfire
たき火
Takibi
5:01
Nagasawa Miki
TBA
05
Sweet Days
甘い日
Amai hi
4:34
Kugimiya Rie
TBA
06
Full Bloom
満開
Mankai
3:58
Minaguchi Yuko
TBA
07
Sapphire Blue
サファイアブルー
Safaia Burū
4:36
Kiuchi Reiko
TBA
08
Shine Like Rainbows
Shine Like Rainbows
Shine Like Rainbows
4:51
Kitagawa Rie
TBA
09
Yesterday, Today, Tomorrow
昨日、今日、明日
Kinō, Kyō, Ashita
4:46
Nishimura Chinami
Nagasawa Miki
Kugimiya Rie
Minaguchi Yuko
Kiuchi Reiko
TBA
10
Dream
夢
Yume
4:25
Nishimura Chinami
Sanpei Yuko
TBA
11
Truthfully
正直に
Shōjiki Ni
4:38
Nagasawa Miki
Takeuchi Junko
TBA
12
Fragrance
香り
Kaori
4:17
Kugimiya Rie
Ise Mariya
TBA
13
Song of Innocence
イノセンスの歌
Inosensu no uta
4:46
Minaguchi Yuko
Nagano Ai
TBA
14
Beautiful Tomorrow
美しい明日
Utsukushī ashita
4:32
Kiuchi Reiko
Maeda Ai
TBA
15
Evening Star
夕べの星
Yūbe no hoshi
3:56
Kudou Mayu
TBA
16
I'm A New Me!
私は新しい私です!
Watashi wa atarashī watashidesu!
3:44
Kitagawa Rie
TBA
First Press Bonus
Jacket cover-sized sticker